Protect Yourself from Fraud This Season
November 19, 2015
Eileen L., Financial Expert
Every year around the holidays it seems there is another big store that has a data breach. Usually, the data breach means your credit card data has been stolen. Any information you've ever given a company could be stolen in a data breach, and thieves can then create fake cards or make online purchases using your card information.
How do you keep your information out of the hands of thieves? And if your information is part of a data breach, how do you protect yourself?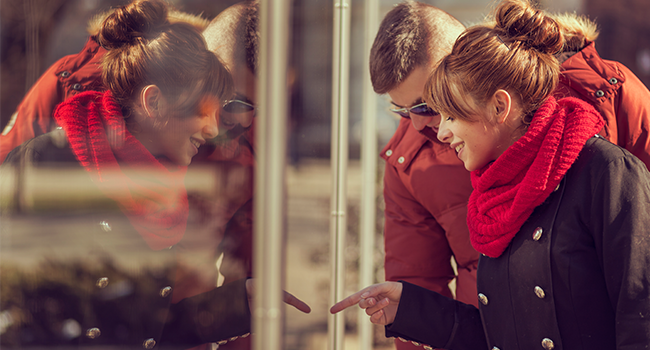 1. Check your account regularly.
When you're paying for a lot of things over the holidays, it can be easier for fraud to slip through unnoticed. Review your statements regularly to make sure you recognize every transaction. I like to do this on the OUCU Mobile app. I look through my transaction history after a big shopping day and check everything quickly against my receipts. It only takes about 5 minutes: you can do it while you're waiting in line at the checkout! The faster you catch fraud, the faster you can have the charges reversed and get a new card. With a the app, I will know immediately if someone else is using my card number and I can call OU Credit Union directly to report the fraud.
2. Know your fraud protection policy
There are a lot of companies who say they will protect you from losses due to fraud. These are scams! Federal law limits your liability for unauthorized charges to $50. Card issuers may have their own policies, as well. For instance, every OU Credit Union Visa Credit Card comes with Visa's $0 Fraud Liability. This means that if your card or card information is stolen or lost, you won't be liable for any fraud on the card. Visa's liability policy doesn't apply to PIN transactions, so make sure you're protected by using your cards as "credit" at checkout (even your debit card; the money still comes from your checking account).
Also look into what your card issuer will do if they notice fraud on your account. OU Credit Union has Visa Fraud Alert Management. If they find something suspicious, Fraud Alert Management will call you. You can verify the charges right over the phone or block your card if it's fraud. Fraud alerts are usually automated, so check and see if there's a number they will call from (OU Credit Union Fraud Alert Management will always call from 844-201-8325). You can program the number in your phone so you know who is calling.
If you ever think you might be talking to a scammer and not your card issuer, hang up and call your financial institution. If it was a legitimate call, they'll understand. Remember that there is no reason for your financial institution to need your whole Social Security Number, whole card number, or PIN.

3. Check any online shopping websites carefully
Online scams are becoming more common as online shopping becomes more popular. I know I buy a lot of my presents online. It's so convenient to be able to shop online whenever I want! Scammers take advantage of people by offering deals on electronics or other items that seem too good to be true. Then, they collect your credit card information and never send you your item. If you're buying online, always check the URL to make sure it's the correct store. Scammers can recreate popular websites with a slightly different URL to trick you.
4. Use cash
Another way to prevent thieves from stealing your data is to limit the amount of information you give to stores. When you use cash, your information isn't collected. However, carrying lots of cash isn't always safe. If you lose your wallet or your wallet is stolen, you probably won't get your money back.
If you're like me, though, it's impractical to use only cash! I like to get all my shopping done in as few trips as possible. So, I use my OU Credit Union Visa and then pay it off over the month of December before I'm charged any interest. Using my card, I can look at all my purchases in ComputerLine instead of saving receipts. And, I know I'm protected by Visa's $0 Fraud Liability Policy.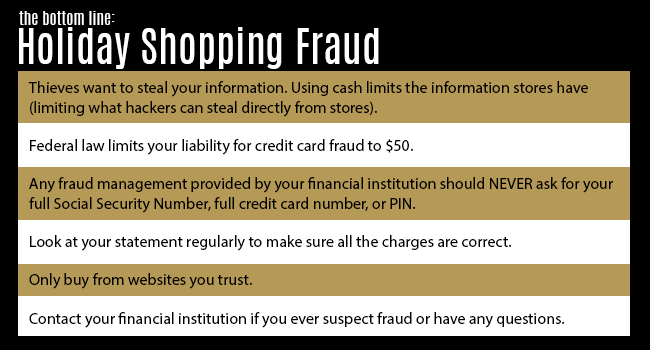 With these tips, you're ready to shop for the holidays without worrying about fraud. You know you're protected if fraud does happen, and you know how to check your statements and look for clues that something is a scam. Want more information about your fraud protection or see fraud on your card? Contact us and we can help!
Tags: Credit Cards, Security
---