2016 Money Resolutions: Evaluating Your Debt and Making a Plan
January 14, 2016
Eileen L., Financial Expert
It's time for part two of talking about money resolutions for 2016. This week I'll be talking about making a plan to pay off debt. While some debt can actually improve your credit score (like having a mortgage with a good payment history), debt like credit card debt can lower your credit score and it costs you money every month!

I'm going to focus most on paying off credit card debt because it can have a big impact on your credit score and it's easy to ignore until it's a huge problem. Did you know the average U.S. household has over $15,000 in credit card debt?




Step 1: Lay It All Out on the Table
Step 1 is really easy to do, but mentally it's a tough task. You have to take a look at all of your debt and write it all down in one place. It might work best for you to write it all down on paper in front of you, or maybe you prefer Excel. The vital thing at this point is to not leave anything out. Maybe you have a store card balance you've been ignoring. Maybe someone else in your household has a credit card you don't know about.

Seeing all the numbers add up can be hard. It can also be hard to acknowledge all the store cards and credit cards your household might have, especially if you don't talk about your finances often. Remember that this process will make it easier to pay off your debt and it isn't about guilt. Debt happens for a lot of different reasons. What matters most is how you now decide to pay it off and avoid debt in the future (by setting up savings goals and an emergency fund).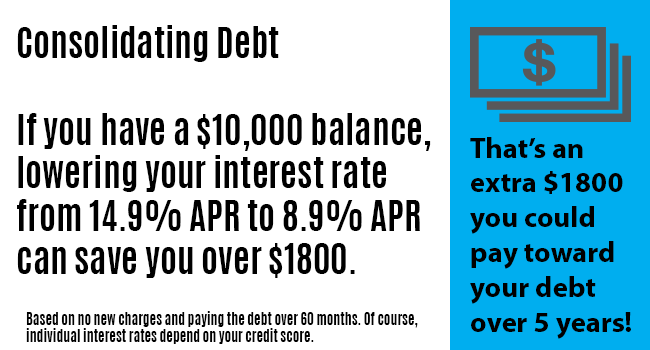 Step 2: Consolidation and Refinancing
Okay, so you have listed all your debt out. Now, you have some decisions to make. One step you could take right away is look at your store cards. If you have a $50 balance here and there, pay those off! If it's a bigger balance, think about transferring your balances to a lower-rate card. Store cards can have rates over 20% APR and moving your balances will immediately start saving you money. For example, OU Credit Union's Platinum Visa has rates as low as 8.9% and no balance transfer fees. Make sure you check the balance transfer fees before you start transferring balances.

Transferring balances to a lower-rate card or card with an introductory APR can be a great way to minimize the interest you pay while you're paying off your debt. Another way to lower the interest rate you're paying is to roll your debt together into an auto loan or a home equity loan.

Using the equity in your car or home to refinance debt can lower your interest rate significantly. The lowest auto loan rate right now at MSUFCU is 2.19% APR, compared to the average credit card rate of 14.9% APR. That's a big difference! So how does that type of refinance work?

In a few sentences, as long as your car or home is worth more than you owe (if you have an auto loan or mortgage), you have equity. You can borrow against this equity at a low rate. So, if your car is worth $20,000 and you have a $10,000 auto loan, you may be able to borrow up to $10,000 at an auto loan rate by refinancing your car for the full value. Then, you can pay off $10,000 of higher-rate debt!

So the main goal of consolidation and refinancing is to lower your interest rates. Another way to lower your interest rate is to just call and ask! Consolidation can also reduce the number of payments you have, making it easier to track your payments.

Step 3: Snowball or Avalanche or Something Else?
Once you've consolidated your debt as much as you can and lowered the interest rates as much as possible, it's time to make a plan to pay your debt off. There are two main methods to paying off multiple debts: the snowball method and the avalanche method.

Debt snowball:
The debt snowball is when you start small with debt repayment and get bigger. So, you'd look at your list of debt and pick the one with the lowest balance to attack first. Once you pay that off, you move to the debt with the next biggest balance and keep going until you pay off your largest debt. By starting small, you build up momentum and knock out small debts fairly quickly, which can be exciting.

Debt avalanche:
The debt avalanche starts off a little slower than the debt snowball, but it definitely saves you money. Instead of starting with the smallest balance, you work on paying off the card or loan with the highest interest rate. This means as you go along, you're paying less and less in interest.

Both of these methods have their pros and cons, so it really depends on what you think will motivate you the most! A third method would be to consolidate your debt into one loan and only make payments on that loan until it's gone. That option is the most convenient, but it might not work for you and you might pay more in interest, depending on your debt and credit score.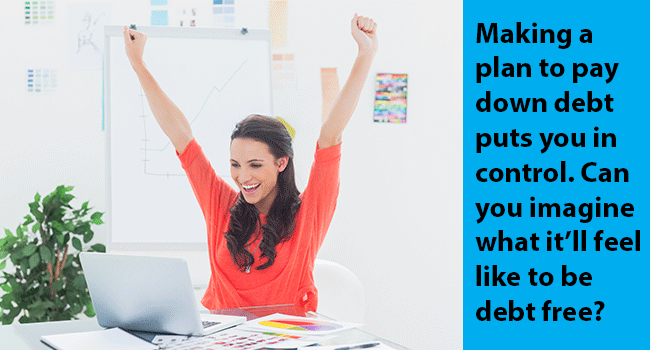 Step 4: Setting Goals
So, you've stared your debt down and consolidated and refinanced and decided on a plan. You're doing great! Now you're on to actually paying down your debt. This is when goals come in. Debt repayment goals are really very similar to savings goals. Hey, there's already been a post on that. Cutting your expenses and automating your debt repayment work just the same as when you're trying to hit savings goals.

As with everything financial, debt is incredibly personal. Everyone is in a different situation, and your method might be radically different from someone else's. If you have questions or need help making a plan, you can always contact us. We're happy to go over your plan with you and help in any way we can.
Tags: Learn About Credit, Budgeting, Borrowing Money
---