New! OU Credit Union eAlerts
February 2, 2016
Eileen L., Financial Expert
You can keep track of your account from with MoneyLine, ComputerLine, and the OUCU Mobile app, but now there's a new way to monitor your account: eAlerts.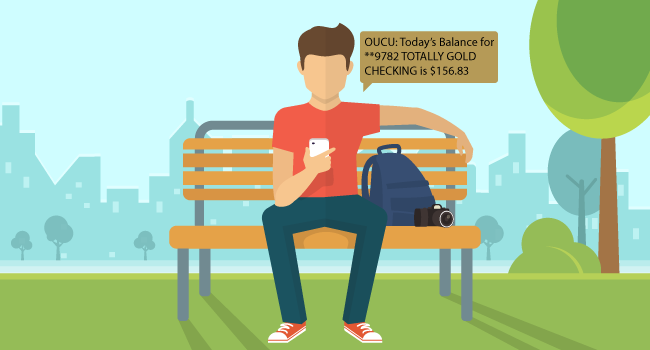 What Are eAlerts?
eAlerts are text message or email alerts you receive when certain things happen in your account. For example, I have an eAlert set up to send me a text message every time a check clears my account. The only check I write every month is my rent check. If I ever received a check clearing eAlert and it weren't my rent check, I would know immediately that something might be wrong in my account.
You can set up eAlerts for tons of things. One of the most common is a daily balance text message or email every morning. I always know how much money is in my checking account thanks to eAlerts. There are also eAlerts for payment due date reminders, balances that are above or below a certain amount, or for when your ComputerLine password is changed. There are over 30 different eAlerts you can customize to keep yourself informed.
You can also text in to get your balance, find an ATM, see when we're open, and more!
How Can I Set Up eAlerts?
Setting up eAlerts is easy! Sign into ComputerLine and click on My eAlerts at the top of your account summary. Then, you'll be able to customize the eAlerts you'd like to receive.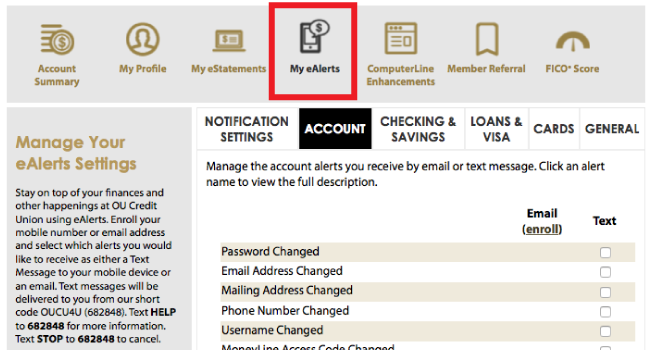 Tags: Tips and Tricks, CU News
---