How to Read a Credit Report
March 10, 2016
Eileen L., Financial Expert
Have you looked at your credit report lately? Your credit report lists your personal information and your loans and is the basis for your credit score. You know having a high credit score is important, but part of positive credit is making sure your credit report is accurate.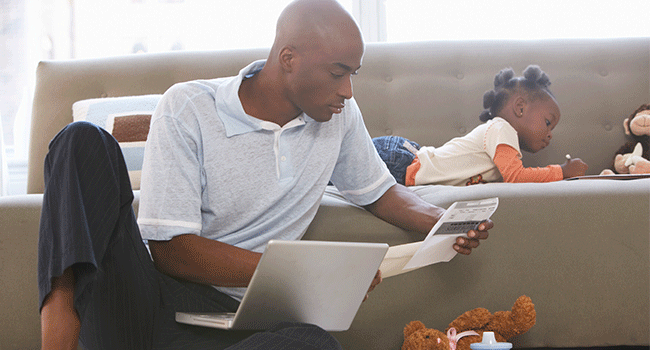 What Is a Credit Report vs a Credit Score?
When you borrow money, the lender reports information about your loan to credit bureaus. The three largest credit bureaus are Equifax, Experian, and TransUnion. This creates a history of your loan history and payment habits. That helps other lenders decide how likely you are to pay them back if they give you a loan. Your credit report also includes personal information, public records that affect your borrowing, and credit inquiries.
A credit score, such as a FICO® Score, is a number usually ranging from 300 to 850. Companies use complex math to determine your credit score based on information in your credit report at a certain point in time. The higher your credit score, the less risky you appear to a lender. A high credit score can help you qualify for better rates from lenders.
What Types of Things Are on a Credit Report?
I mentioned some of the things that will appear on your credit report. Now let's dive in a little more to see how each piece affects you. There's no standard order for a credit report, so the pieces might be in a different order depending on the credit bureau.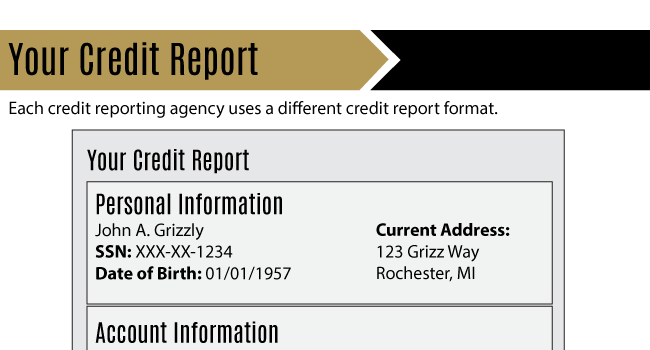 Personal Information
There might be thousands of people with the same name as you in the United States! The personal information on your credit report helps make sure that all the information on your credit report is yours. When a lender reports a loan, the personal information on the loan is matched to the personal information on your report.
This section can include your name, birthday, Social Security Number, current and previous addresses, and employment information. Everything that goes on a credit report is something you have told a lender about yourself. You might not have employment history or multiple addresses. Check to make sure all this information is correct.
Account Information
The longest section on many people's credit reports lists account information. "Account" means any loan you've had, including mortgages, credit cards, and auto loans. This includes loans you've paid off.
For each loan account, the report will list your loan balance, the highest balance for the loan, the credit limit, if you are paying or past due, the account type, and the date the loan was opened. That's a lot of information! The report also shows your payment history and if you've been late on any payments. All these little pieces factor into your credit score. Like with your personal information, check to make sure the loan account information is correct. Sometimes if your identity is stolen, thieves will open loans in your name and the loans will show up on your credit report.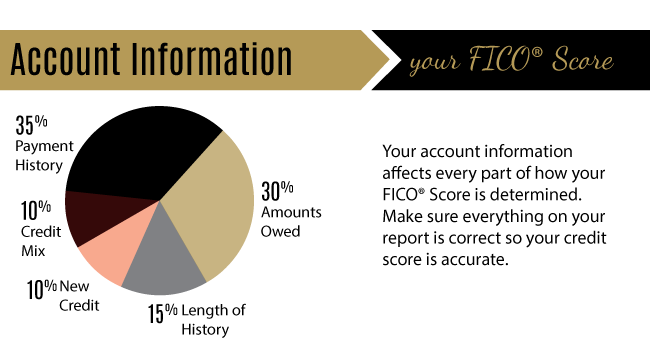 Public Records
Some things that are public record are shown on your credit report. This includes bankruptcies and tax liens. Again, continuing the theme: every time you look at your credit report, make sure any public records are correctly listed.
Inquiries
Whenever you or anyone else requests to view your credit report, the inquiry is recorded and listed on your report. Lenders pull your credit report when you apply for credit. Under the Fair Credit Reporting Act, there are other people who can view your credit report. This includes potential employers and current creditors who are monitoring your accounts.
What if Something Is Wrong on My Credit Report?
If you read your credit report and see incorrect information, don't ignore it! Contact the credit bureau to get your credit report fixed. If someone has stolen your identity or a company has made a reporting mistake, it can have a negative impact on your credit score.
How Do I See My Credit Report?
You can access 3 free credit reports per year: one from each of the three major credit reporting bureaus. You can decide to look at them all at once or space them out throughout the year. Get your credit report online at annualcreditreport.com. This website is maintained by the 3 credit bureaus as required by federal law.
Remember that looking at your credit reports won't give you access to your credit score. But if you have a loan or checking account at OU Credit Union you can see your FICO® Score for free in ComputerLine and the mobile app. This score is based on data from Experian, doesn't affect your score, and will be updated quarterly.

FICO® SCORE TERMS: Your FICO® Score and key factors are based on data from Experian and may be different from other credit scores. This information is intended for and only provided to members who have an active lending relationship with the Credit Union. Scores are provided within ComputerLine and the OUCU Mobile app with key factors for eligible individuals. You will see up to a year of scores starting when you start your lending relationship with us. FICO is a registered trademark of the Fair Isaac Corporation in the United States and other countries.

OU Credit Union and Fair Isaac are not credit repair organizations as defined under federal or state law, including the Credit Repair Organizations Act. OU Credit Union and Fair Isaac do not provide credit repair services or advice or assistance regarding rebuilding or improving your credit record, credit history or credit rating.
Tags: Learn About Credit, Security, Borrowing Money
---