The Costs of Moving
June 16, 2016
Adrienne H., Financial Expert
Last week, I discussed the pros and cons of buying or renting a home. No matter where you are making your next move—whether it be into a home you are buying or renting—there are many costs to consider while creating a moving budget. Let's take a look at some of those expenses.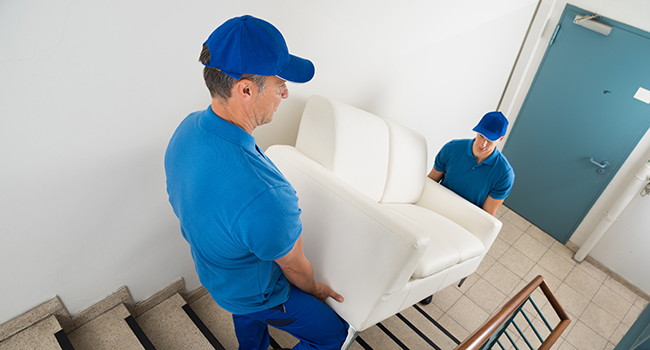 Repairing the Space You're Moving From
Before you move out of your current home, think about the repairs or updates you will need to make before you take the next step. Updates may include repainting your doors and walls, replacing blinds, cleaning your carpet, power washing your deck and sidewalks, cleaning out your gutters and vents, repairing any broken objects such as windows, locks, and appliances, and so much more...the list goes on and on. These updates may be necessary to consider to avoid maintenance fees or losing your security deposit from your leasing agent, or before putting your house on the market.
The fees to repair or replace items in your home will add up quickly. Plan your repairs and replacements early so you have time to research the most cost-effective ways to sell and move out of your home. If you plan ahead and stay organized your move to your new home will be more enjoyable and less daunting.
Physical Moving Fees
According to Zillow, the average moving cost varies from $2,600 to $4,400, depending on the route and distance between houses. From boxes and movers to the vehicle and gas, relocating your entire life is not inexpensive. Save money by asking friends or family to help you move, rather than hiring a moving company. If you decide to hire a professional moving company, don't pick the first one you see on your Google search. Research and compare different companies to find the best deal around the time and date you need to move.
To keep your move low-cost, try not to pay for moving boxes! Ask your family, friends, and coworkers to collect boxes and storage bins to help you move. Consider even going to your local market or wholesale store to pick some up. Businesses with frequent shipments and packages often have leftover boxes lying around that end up at a recycling center if others don't claim them.
Initial Rental or Mortgage Fees
When moving into a new place, there are some costs you can't avoid. If you're renting your next home, you will likely have to pay an application fee, first and last month's rent, and a security deposit the month you move in. Additionally, many leasing companies will charge a non-refundable deposit and an extra monthly fee for any pets you decide to bring along. . For homeowners, you will have many more and much larger expenses when closing on a home. Here's a breakdown of closing costs from Zillow. The list of fees may surprise you and be longer than you expected.
Utility Fees
Wherever you go, you will have to pay for utility services like water, electricity, gas, Wi-Fi, and cable—unless your rental home includes all utilities. Beyond your monthly bills, many companies also charge service installation fees. For example, when setting up your cable or Wi-Fi, you may have a contract fee once the service starts, and labor fees may be charged if you don't setup the connection on your own. Additionally, utility companies charge cancellation fees if you terminate your contract. This may be another expense you have to take care of when moving out of your current home.
Decorating and Furnishing Your New Place No two homes are ever the same. From the size of the house to the different floor plans, the furniture and décor you have for your current home may not fit or fill the space of your next place. As many people move to have a bigger home, they will have more space that needs to be furnished and decorated. Usually more space also means more windows. Think about how many more blinds and curtains you may need to cover the additional windows. The furniture and decoration list is endless!
For those moving into a rental home, you may already have enough furniture such as a couch and bed to get you by for a short-term lease. However, apartments and older rental homes sometimes have smaller entryways. Measure your furniture and entryways before you move so you don't have to worry about finding a smaller bed frame, mattress, or coach to fit in your new place.
Extra Costs for New Homeowners
If you are a first-time homebuyer, there are many household items that you've never had to buy or think about buying before. Your home may not come with the amenities often included with a rental home. Some of the amenities you should consider include lawn care or a lawnmower, a washer and dryer, and kitchen appliances—which you now have to buy. Many of these items aren't considered in the home-buying process but should be considered when looking at your overall budget for the big move.
When purchasing your appliances make sure you take a look at the offered warrantees. Some warrantees may help you in the long run if your refrigerator breaks down or your water heater stops working. As a new homeowner, you are now responsible for all of the maintenance fees in your new home. If you decide to not invest in warrantees, make sure you've made enough room in your budget to take care of those unforeseen circumstances.
Homebuyers often have renovation plans if they are moving into a previously owned house. If this is your case, think about the costs of painting and replacing windows, carpet, siding, roofing, and more. These common updates to a home can add a huge expense to your move. If you are planning home renovations, consider scheduling them out in phases. This will help you prioritize what is necessary versus what could wait to be done a year or two after moving in. By spreading out the costs, your wallet will thank you!
Tags: Home Ownership, Budgeting, Tips and Tricks
---