5 Tips for Smart Back-to-School Shopping (Free Download)
August 4, 2016
Adrienne H., Financial Expert
When going back to school, there's a lot of organizing that needs to happen to ensure the school year is off to a good start. Use these tips to show just how smart you are by not spending too much money on back-to-school supplies and clothes this year.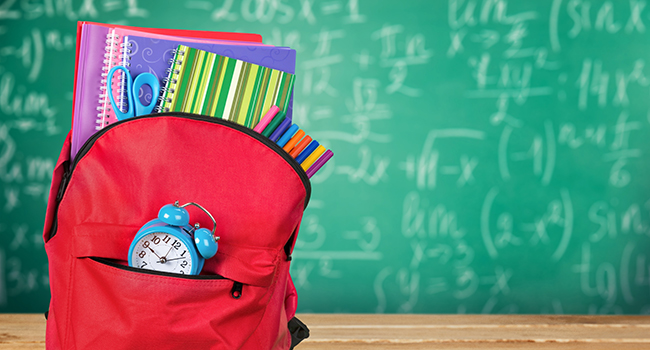 1. Make a List and Stick to It
Before you go back-to-school shopping, decide exactly how much you are willing to spend and keep that budget in mind. Next, use this printable budget worksheet to write down the supplies you need. Keep track of this list to make sure you aren't spending your money on unnecessary items that weren't budgeted. By planning ahead, you will save money and feel more prepared to start the new school year.
2. Gather What You Already Have
Remember that notebook you bought last year? The one that still has at least 100 blank pages in it? Often times, "old" supplies that you bought for the previous school year are abandoned even though they are still usable. These supplies could include pens, pencils, backpacks, and even clothes. Although the school supplies you already have laying around your house are not new to you, they are still in good enough condition to use again this year—allowing you to save money and cross off items on your list before leaving the house.
3. Wait Until After School Starts
If you tend to wait last minute to do anything, you'll ace this tip. For the first week of school, whether you're going back to school or sending your child, take the supplies you already had around the house. Once school starts, stores begin putting all school supplies on clearance. Plus, you'll avoid the crazy crowd of back-to-school shoppers! Many teachers also give their school supply list during the first week of school. Waiting to see teachers' supply lists will give you the peace of mind that you're buying exactly what you need, and you may even buy enough supplies for next year!
4. Avoid Buying "Cute" Items
When shopping for basic supplies, stores will offer more decorative supplies including glitter notebooks, superhero pens, backpacks with popular cartoon characters, and more. These trendy items are more exciting, but they can add up quickly. Try customizing your basic supplies for a more decorative and personalized touch. Websites like Pinterest have hundreds of ideas to make school supplies less drab and more fab on a budget!
5. Use Your Rewards Card
Back-to-school shopping is great time to use a rewards credit card, especially when there's a bigger bonus for new school clothes! This is even better if you have a Back-to-School savings fund. Then, you can put all of your purchases on your rewards card and pay the balance off right away. You get your rewards and you avoid any finance charges! Just make sure you're sticking to your list and tracking your spending so you don't go over your budget.
Bonus Tip: Label all School Items
School supplies and clothes are expensive and if you buy new supplies, make the investment worth it. Avoid replacing lost or stolen supplies by putting your name or your child's name on all school supplies and clothes.
Have a great school year! Don't forget to use this printable budget worksheet now and throughout the year in case you need to restock your school supplies.
Tags: Tips and Tricks, Budgeting, Credit Cards
---